1999 - A Weeki Weekend - February 5, 2000 - March 11, 2000 - March 18, 2000 - Bahamas 2000 - May 20, 2000 - A Stress and Rescue Weekend - June 10, 2000 - June 11, 2000 - July 4, 2000 - July 8, 2000 - July 16, 2000 - July 22, 2000 - August 12, 2000 - August 20, 2000 - October 14, 2000 - November 18, 2000 - December 17, 2000 - 2001 - 2002 - 2003 - 2004 - 2005 - 2006 - 2007 - 2008 - 2009

August 6, 2000: Weeki Wachee, Florida
"Weeki Wachee"


What should have been a busy day was quite thin, probably due to the fact that it was "Tax Free" week and school started soon for most folks. Some dive vendors were down showing off some wares.
Diving in the land of the Mermaids:
Directions from Tampa: Weeki Wachee is just south of the intersection of State Road 19 and State Road 50. Weeki Wachee is technically it's own city, but I've seen it referred to as part of Brooksville, as well as part of Spring Hill.
Conditions on the day of my visit: Sunny initially, some scattered rain here and there; comfortable in the afternoon.


Personal Notes: The Packu were in (very large, charcoal colored fish) which gave me an opportunity to finish off a roll of film in anticipation of the West Palm Beach dive I had planned for the following weekend (so I'd have a fresh roll in the camera). It was an unusually slow day for diving.

My materials for my DiveCon class also came in (ouch, an expensive purchase) which gave me a little bit more of an idea of what to expect. Scott and I also discussed some of the scheduling and tentative plans for lecture dates ... DiveCon is SSI's attempt at combining the classical "Dive Master" and "Assistant Instructor" courses.
Pictures!
I had to finish up a roll of film so that I had a fresh one in the camera for a dive the following week with the Rodale's Message Board group in West Palm Beach. Luckily the Packu were in!
Weeki Wachee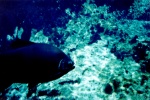 Big, relatively unafraid fish ... they would come quite close.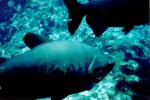 Here's probably the best close up shot.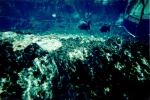 Here they are at a distance, obviously quite large fish. I wonder if they were mates or just a school of two?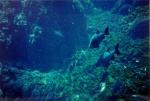 They spent most of the time together, though occasionally I did spot them separated.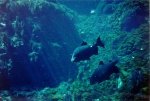 Supposedly regulars at the spring, this was my first time seeing them.



Dive data for dives on this day:


| Dive | Site Name | Max Depth | Minutes | Water Temp |
| --- | --- | --- | --- | --- |
| 70 | Weeki Wachee | 50 feet | 60 min. | 74 F |
| 71 | Weeki Wachee | 82 feet | 40 min. | 74 F |